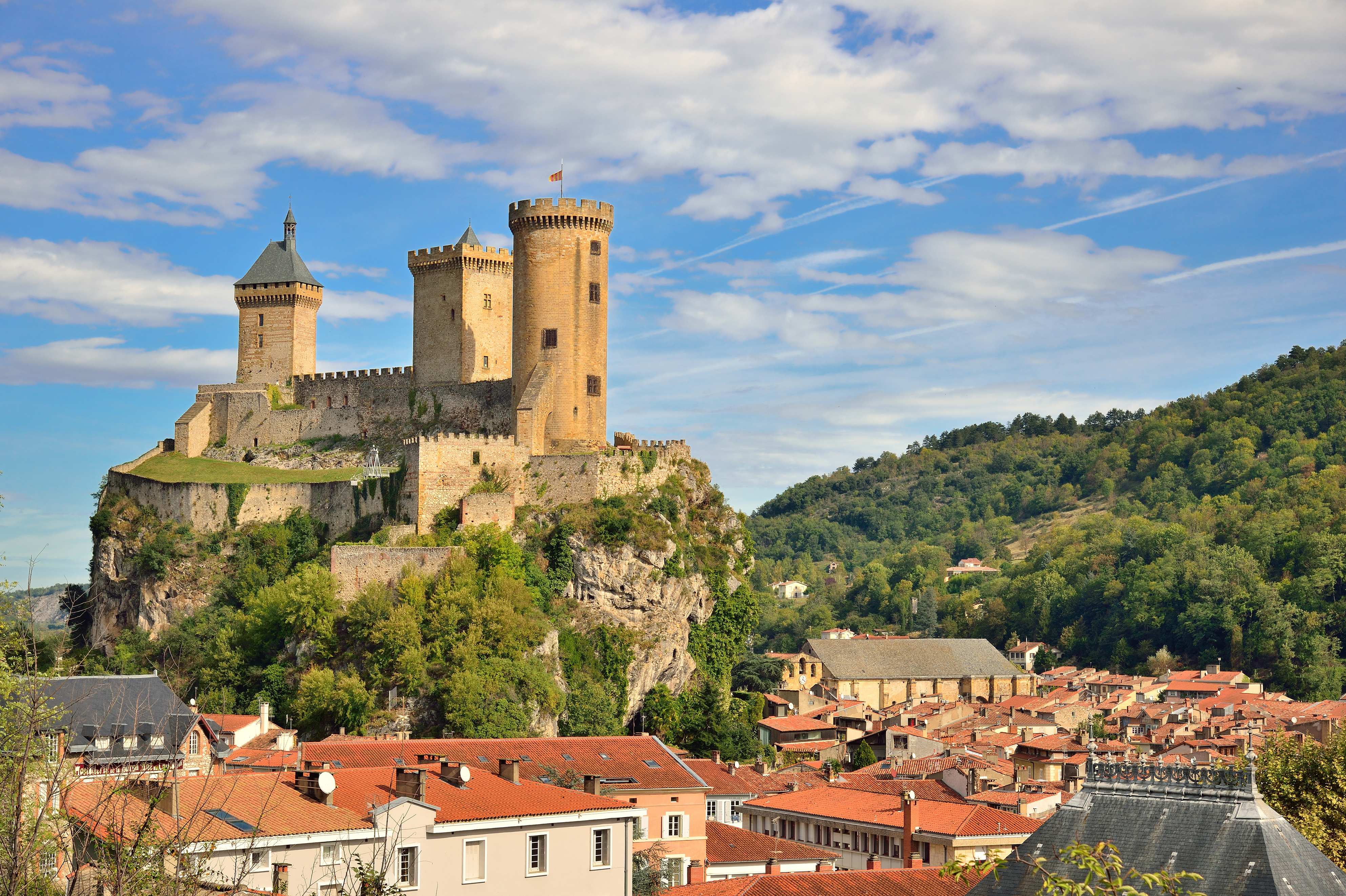 Just half an hour's drive from Gîtes de Montcabirol lies the historic town of Foix. Set in the upper Ariège valley, close to the Pyrénées, it is surrounded by some beautiful scenery. Here are our top three things to do when in Foix:
You can see the main feature of Foix from afar as the Chateaux de Foix dominates the city with its three hilltop towers, one square, one round, and the third topped with a conical roof. You can wander through the rooms and climb the towers for the views over the surrounding countryside and the distant mountains of the Pyrénées. The chateaux has undergone recent renovation and also houses a museum


The historic Old Town has a maze of narrow streets and old timber houses. There are pretty alleyways with patisseries, boulangeries and brocantes. As you wander around the town you will reach the old market square with its quaint cafés and boutiques. There are a wide variety of cafés, bars, bistros and restaurants so whether you want a coffee, a glass of wine or a leisurely lunch there will be something just around the corner


There are a variety of markets in Foix but the Friday market is renowned for its magnificent selection of stalls selling fresh fruit and vegetables, honey, cheeses, wines and much more.
For a wide range of information about Foix, including what's on in and around the town visit the Tourist Information site.

A Little Bit of History
The Romans built a fort on the rocky hill where the Château de Foix castle now overlooks the town. The founding, in 849, of the Abbey Saint-Volusien allowed the development of urban living in the tenth century to the twelfth century. The city reached its peak in the fourteenth century.
The castle, whose foundations date back to the early tenth century, was a strong fortress that withstood the repeated attacks of Simon de Montfort IV between 1211 and 1217, during the Albigensian Crusade.
In 1272, when the Count of Foix refused to recognize the sovereignty of the king of France, Philip the Bold personally took the leadership of an expedition against the city, subsequently the count surrendered.
In 1290, at a meeting of the Béarn region and the county of Foix, the city was practically abandoned by the Counts. Gaston Phoebus was the last to have lived in the castle, and by the sixteenth century the castle had lost its military purpose. The castle was then used as a prison until 1864.
In 1536 began the first Reformation preaching in Foix, and in 1579 the church of Montgauzy was destroyed. The same fate awaited the abbey and its church in 1581. The following year, Foix was retaken by Catholics, and in 1589 the Count of Foix, Henry of Navarre, was crowned King of France and became Henry IV.